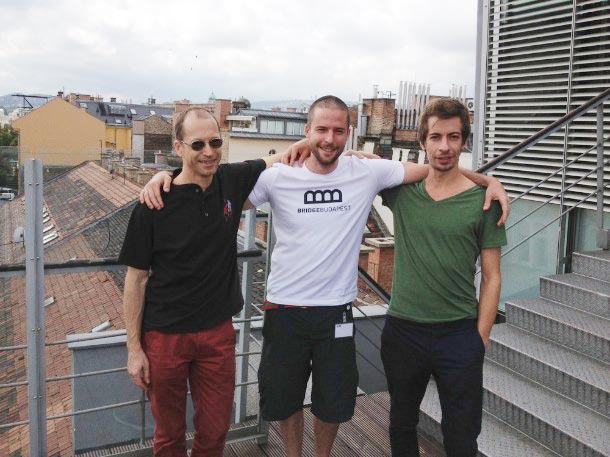 After an early morning workout I opened the roughly 10 feet tall wooden door with a gold-plated handle of the LogMeIn office in Budapest with a bit of an awkward feeling since I had no idea what will happen on the other side.  But thats exactly why I'm here, right? Immediately after I entered the fairytale-like door, reality hit me strong with a second door made of glass with a silver-plated handle. Anyway Szilvi from HR—who I met earlier on a Storytelling workshop—was waiting for me on the other side. She gave me a gift bag with a LogMeIn pens, notebooks, a hat (see image below!) and a magnetic entry card so I immediately felt part of a noble club. 🙂 Szilvi kindly showed me around in the building with all floors and product offices including the Rescue, Cubby and Join.me offices.
During our trip as we visited spacious rooms with large blue and green colored bean puffs  I saw neat fixie bikes and friendly pro people working in front of multiple monitors. For a moment I felt like I stepped into a full color brochure where all I have to do is turn the page. Szilvi took me up to the top floor where the community area is located with extra tasty coffee, sodas, comfortable and heavy leather couches and other must haves like pool table, darts, foosball table, Xbox, Wii and on top of everything (literally) a great rooftop with awesome view of the city.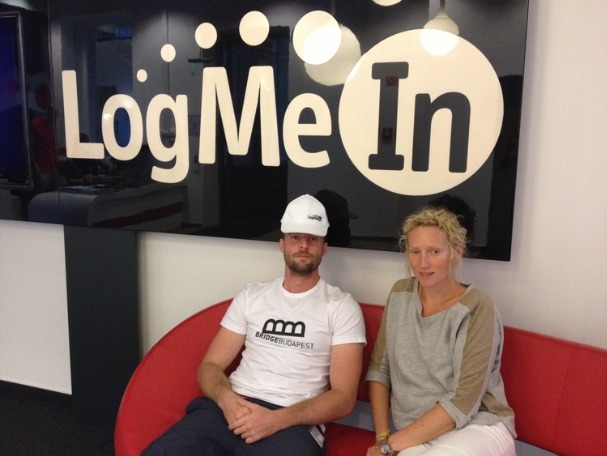 After our short trip on the rooftop we used one of the futuristic glass elevators with Szilvi to travel a few floors down and meet a very nice guy called TJ Ewing—he is the VP of International Development and he runs the Budapest office. After a brief conversation with TJ, Szilvi introduced me to the UX team namely to Ádám, Csongor, Gyuri and Péter and practically threw me into a cave full of lions.