It was an ordinary foggy morning in San Francisco. Except one fact: It was the day of the New Tech Crawl 2014. It's an event for all kinds of people to visit the best tech offices in San Francisco Downtown. And you know what? This year it started from Prezi. While more than hundred people were drinking coffee and having breakfast in our office, the Prezilians showed them what are they really proud of. Starting with the video above. It made me really proud that I am from Budapest.
They say, your workplace is basically your second home. But usually it's being said in a negative way. But there is no negative sound in this when saying this about Prezi. This office is great. It's hard to explain why exactly. Marci already gave it a try (if you haven't read it, here it is), so I will just quickly do my best. I think it comes from two things:
The place itself. True, it's an open plan office which some people dislike. This was my first experience with such office, and I have truly positive feeling about it now. We had enough space to be separated, but we were close enough to be able to discuss anything right away, when it was needed. And no one has any special rights here. Even Peter Arvai (the co-founder, CEO of Prezi), was sitting in between us. All meeting rooms has glass walls (except one small, mostly for recording music 🙂 ), which nicely reflects the transparency of the company. And in the farthermost corner of the office, there is the kitchen area. A fridge full with drinks, a wall full with musli and snacks, a ping-pong table, a table football, an arcade game and of course some couches to relax…
The people. I don't know how do they do it at Prezi, but somehow, they hire only nice and friendly people. Everyone is helpful and committed to make Prezi better. It was great to see how people are working together.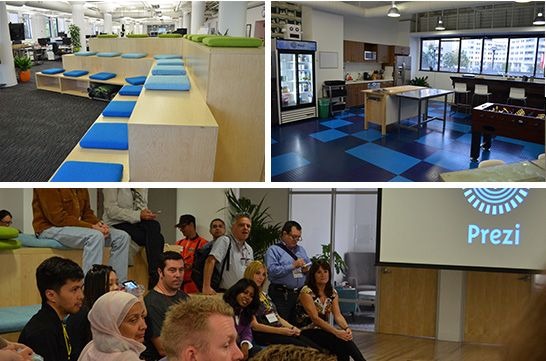 Sorry, I got a bit off the point :). Getting back to the tech crawl. So after having a nice breakfast, some prezis, we set off to Medium. Their office is right on the main street of San Francisco, in a beautiful building. It was clear from the first second we entered, that this office is at least as inspiring and comforting as Prezi's. And then we moved on again and again. In the downtown of San Francisco, famous and important players of the IT world are sitting walking distance from each other. We have been to many places, so I don't want to details each and every amazing place. A funny moment was, when we had to sign a Non Disclosure Agreement even to enter the office of LinkedIn (btw, they just opened their new office in SF, and it's fascinating). We also visited the office of the 500 startups, which is a seed accelerator. It was great to see how the small companies – just after their first bigger investment  – work for the global success.
Just on the weekend after, I had a meeting with a Googler in the Googleplex at Mountain View. This meant, that this time, I could really enter the Google campus, and not just wander around the buildings (thanks David!). Without any doubts, Google is the most generous employer I've ever seen or heard of. I've just seen a small fraction of the campus, but I've been to a bowling alley, to a Japanese restaurant, next to a T-Rex skeleton (his name is Stan), in a tub full of rubber balls, played on a $140.000 piano and I could continue… Sometimes, instead of walking down the stairs, we just slid down on a slide to a library, where you could easily find books more than 100 years old. It felt like we are in a playground for adults. But on the other hand, they have some of the brightest people on Earth…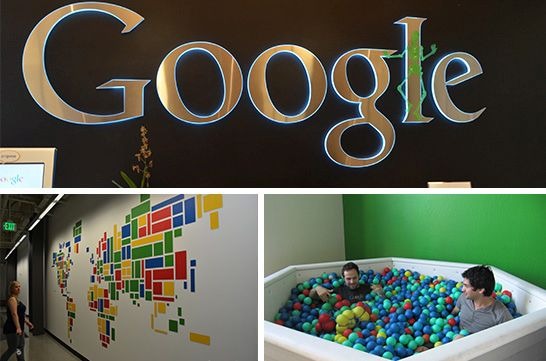 You might say, that this is only in the US where money grows on trees. But I have to disagree. Just have a look on the Bridge Budapest Office Spotting. Unfortunately, there is not many company who dared to make this step but there are more and more companies who see it pays off to make their employees happy.