You can hear a lot about how different everyday life is at startup companies than at traditional big companies. Flexibility, young and pleasant environment and creative attitude are almost always mentioned in connection with every startup as attractive factors, but what is true of all this? I hope to dispel a few myths by the end of this post and to give a general picture of how everyday life is at a startup from my point of view.
I have been working for PublishDrive for five months now, a company that deals with e-book publishing and distribution at global level. The industry itself is very interesting in my opinion, but what is more exciting is the position I am in at this company. Because my task is "hacking"; officially my title is junior growth hacker. This is practically the marketing manager of the startup world, but at the same time it has quite broad freedom, creativity and divergent duties. Apart from traditional digital marketing tasks, like email marketing or social media management, it is good for a startup if the marketing manager has minimum level IT knowledge. Website building and design, content marketing, PR tasks, A/B testing, SEO approach all contribute to the life of a growth hacker. A wide range of tools and techniques must be used with which quick development can be realised with global strategies and minimum capital investment.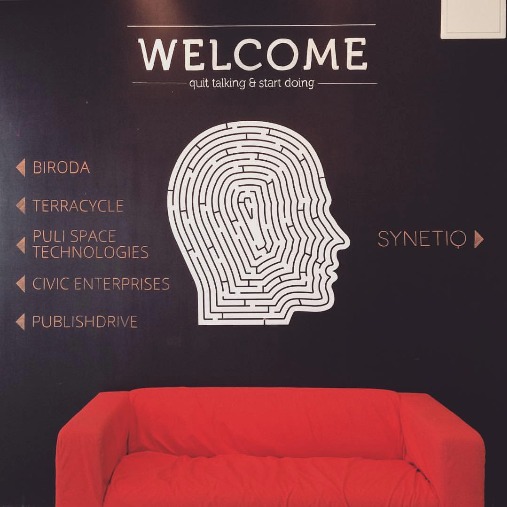 There are four other people at the company besides me, we work in the same office and everyone has their own field and range of duties. This is the first thing that might catch your eye because a new startup does not have the resources to have several people employed at each field. As a result there is a lot of work that needs to be done efficiently and quickly. We must react fast to permanently changing needs, industry trends and we must think long term. At a startup you need to work hard. It doesn't happen that you finish your daily tasks and you can go home because there are always new tasks and new projects that are almost always urgent priority. This tight work schedule is the reason why we have lots of opportunities to relax. At our office this is made possible by beanbags, darts boards and table tennis tables. Flexible working time also helps to be more productive during our daily tasks.
At a startup, work is not distributed in a bureaucratic organisational system. Continuous brainstorming and open communication characterizes our work, which provides the most efficient operation for our organisation. It is this great team that ensures a pleasant atmosphere at PublishDrive every day.