Íme néhány érdekes, szerintem említésre méltó, inspiráló, innovatív kezdeményezés, ötlet, melyekre az első pár hét alatt leltem ösztöndíjam alatt.
Party in the museum?
Yes, there is a party on every Thursday night at the California Academy of Sciences. It attracts a lot of young people and it's pretty awesome. Plus, you can learn about rainforests and you don't have to even put your beer down.
Ustream For Change and the WITNESS movement
The mission of Ustream For Change is to empower societal transparency through the use of live video, they support a lot of civil groups and associations, to make this world more rightful. One of these civil associations is WITNESS, which is a human rights non-profit organization based in New York. Its mission is to partner with on-the-ground organizations to create videos that document human rights violations. I heard about this movement at Ustream, on a usually "Thursday speech", I think this project is worth to follow.
The Maker movie
I have been a huge maker and tinkering fan for ages. And finally, when I participated on a tech meetup, I discovered a movie about the maker movement! Err, okay, but what is this maker-tinkering thing exactly? Well, I think you should check the Maker movie trailer… 
Valencia Street 826 – Pirates and authors are welcome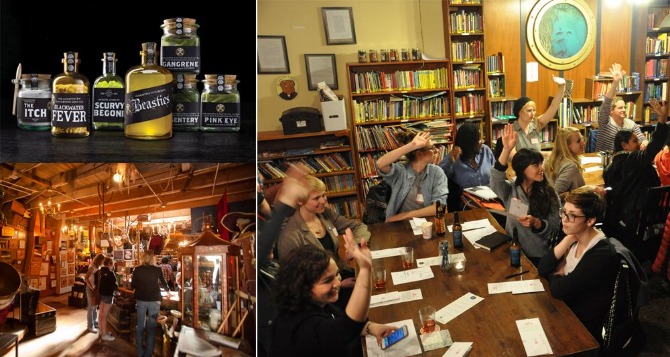 Igazából az egész úgy kezdődött, hogy délután öt volt és kedd és én fáradt voltam és a Ustreamben ültem és elkezdtem TED videókat nézni. Mac Barnett előadását hallgattam meg, aki sok mindenről beszélt, többek között arról is, hogy San Franciscóban nehéz bálnát tartani és hogy a Valencia Street 826-ban van egy kalóz bolt. Szóval így jutottam el a Valencia Street 826-ba, ahol tényleg találtam egy kalózboltot! Volt ott kampó, meg papagájeleség, falábak és hordók és mindenféle további hasznos cucc, amikre egy tisztességes kalóznak csak szüksége lehet. De a legjobb az egészben az volt, hogy a kalózbolt mögött van egy szoba, ami nem más, mint egy kis irodalmi kulturális központ gyerekeknek. Ez a center különböző foglalkozásokat szervez gyerekeknek és tinédzsereknek, hogy megszeretessék velük az irodalmat és alkotásra buzdítsák őket. A kalóz bolt egyfajta inspiráció, díszlet a gyerekek számára. A fikció valósággá lett boltja. De ha szeretnél, tényleg vehetsz kincseltemető homokot. Még számlát is adnak róla. De ha szeretnél, tényleg vehetsz kincseltemető homokot. Még számlát is adnak róla.