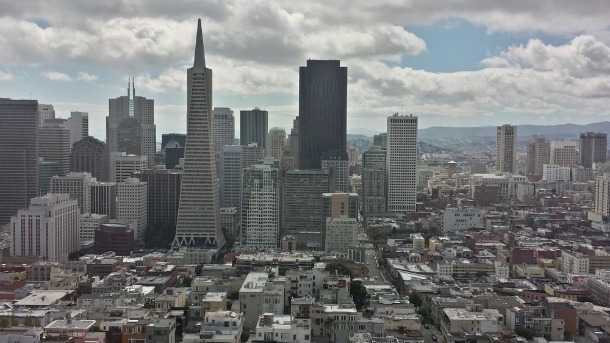 The first week has flown by so fast, but let's start at the beginning. Saturday night when we arrived after a 16 hours long flight I thought I was dreaming because I couldn't sleep a minute on the plane and I felt confused because of the time difference. It was hard to believe that I had finally made it, and I really made it to San Francisco. Despite our fatigue we instantly started to explore the city. During our trip we met with the steep hills of San Francisco, the high skyscrapers of the financial district and the bustling streets of Chinatown.
Next day in spite of the jetlag we woke up very early, so we started to conquer the city again. In the early hours there was no one on the streets and we felt like the only survivors of a post-apocalyptic movie. Of course after the sun came up and we arrived at the piers the city came alive. At this point we didn't have any plans so we just wandered around the streets and took pictures of everything what we met. On the shore we met with runners, cyclists, longboarders and fanatic swimmers who dressed in neoprene clothes and swam in the icecold water. At the parks American families gathered to share their stories with each other while they were eating their homemade cookies.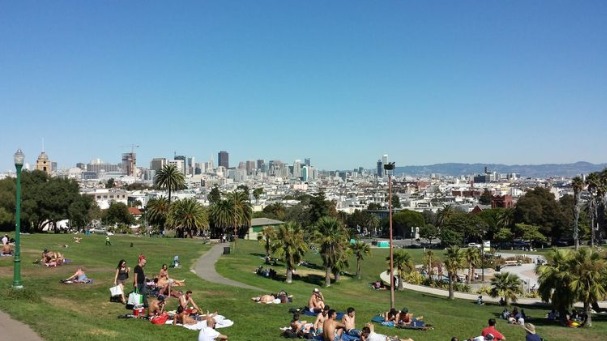 After our tourist weekend on monday we started to work. On the way to work we experienced that the Budapest public transportation service (BKV) is actually not that bad at all, because in San Francisco the buses are also crowded, the schedule is awful, and the bus drivers drive in a crazy way (they combine full throttle with full stops). When we arrived at USTREAM's HQ we found a pretty nice open office space surrounded by small meeting rooms. All of the meeting rooms were furnished and decorated according to a nation's characteristics. For example in the Hungarian meeting room there is a picture of Gyula Feher, who is wearing a traditional Hungarian cavalryman's costume. After we explored the office our mentor Andris introduced us to the colleagues at Ustream then we started to work. Andris showed us the systems we have to work with, and we he gave us software development tasks.
I spent the next few days mainly with work which was only interrupted by lunches in the early afternoons. Thanks to Andris – who beside helping us in our work recommended us a lot of good places to visit and to eat at- we ate delicious meals. All of the restaurants and bars here in SF try to emphasize how unique they are, and which countries' flavours they represent. Beside that at the best places the menu usually contains only a few meals, but those meals are made with special care and therefore taste better. Of course the American cuisine in itself would be boring, but thanks to the Mexican, Chinese, Indian and other immigrants who mix their nationality's special flavours with the classical american tastes, the end result is delicious meals. Although my favourite meals are still Hungarian ones, at least at least now I know that american food is not equal with junk food what you get in the fast food restaurants in Hungary.